Airflow Management Products
The Aluminum Sliding door:
The ideal solution for both cold and hot aisle containment designs. Combining cost effectiveness with ease of installation, the no threshold design eliminates tripping hazards. Frame components arrive pre-assembled and easily connect to the header rail which secures the assembly together. Integrated slide-locks simplify door installation onto the frame. The Sliding Doors reduce data center operating costs by improving thermal efficiency and reducing IT equipment intake temperatures, which enhances both equipment life and reliability.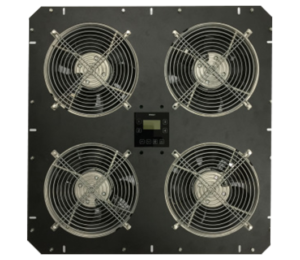 The AirBoost EC Fan floor cooling system offers direct cooling to areas where clusters of high-density servers have created hotspots or where the hotspots are caused by under-floor restrictions or obstructions. It also provides additional airflow to allow the installation of higher KW loads per server rack. AirBoost units have been used to cool upwards of 15 kW server loads. The Airboost EC comes with both manual control and remote temperature controlled features. The speed of the fans increase or decrease according to temperature changes in the surrounding area. AirBoost EC allows BMS connection to provide low and high temperature alarm information.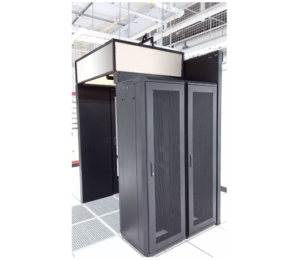 The Fire Suppression Access Drop ceiling:
The Fire Suppression Access drop Ceiling is the perfect addition to any data center fire protection program. In the event of a fire, the ceiling adeptly falls away, allowing sprinklers or fire suppression agents to circulate freely. The patent pending design features ceiling panels equipped with a electromagnetic droplink activation system. Superior to competing ceiling systems. The Fire Supression Access drop Ceiling System is fall safe and creates a fully enclosed environment while inactive and is made for easy installation and can be customized based on the specifications of your Data Center.
The DC-68-D is a 70 degree directional tile that will put the cold air where you want it… directly into your server cabinet. A directional tile reduce air loss and the DC-68-Directional tile and it is a full 68% open area tile so you'll get maximum amount of air to cool those high density servers. The DC-68D is made of cast aluminum so there is no worry of zinc whiskers or rust…ever! The DC-68-D has a factory applied, extremely durable, grey hammer-tone powder coat finish to prevent corrosion. The DC-68-D meets MOB PF2 PS, CISCA and BS EN 12825 standards for point load, uniform distributed load and rolling load. The DC-68-D is also available with a sliding damper so you can adjust the volume of air required for your particular application and equipment load. The DC-68-D damper has a slim profile so underfloor laminar airflow is not affected.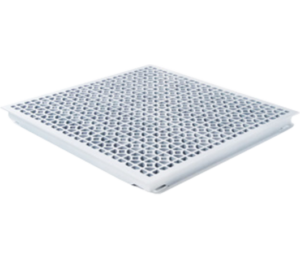 The Data Clean's DC 55 Air Grate is a 600mm x 600mm cast aluminum floor grate with a minimum open area of 55% that delivers almost twice the CFM of the average perforated floor tiles. That mean it provides enough airflow to properly cool your high density equipment. The DC55 grate can be the solution to your hot spot problems by allowing air to flow high enough to cool those servers that are positioned close to the top of your server cabinets. The DC 55 has a factory applied, high durability, light grey powder coat finish to prevent corrosion and this heavy-duty perforated panel can withstand a point load of over 4.5KN (1,000lb per square inch) and a uniform distributed load of over 13.5KN (PSB test results available upon request). The DC 55 is also available with a louvered damper so you can adjust the volume of air needed for your particular application and equipment load. The louvered damper is adjustable from the top so you do not have to remove the tile to make those critical adjustments. The DC 55 damper assembly has a very small profile so the underfloor laminar air-flow is not affected.
Save money and time with the Aisle Containment Ceiling System. Our simple design and quality materials are the ideal solution for maximizing efficiency and controlling temperatures in both hot aisle and cold aisle containment applications. This ceiling system comes with melt-away ceiling tiles, allowing you to meet the requirements of your local fire marshal.
Copyright © 2023 Cybermax Manufacturing Pte Ltd | All Rights Reserved